Welcome to Rebecca Oswald's website!
The latest news:
Rebecca's composition "Aesop's Fables" (woodwind quintet and narration) has been recorded and will be released this fall (with Italian narration!) on CD by Quintetto Andersen, a premiere woodwind quintet from Italy.
Rebecca's choral composition "Die Alster" (SATB/piano, with text by Friedrich von Hagedorn) was premiered by the Deutsch-Texanischer Saengerbunden mass choirs on May 5th in League City, Texas, as the final piece in the 2013 Texas State Saengerfest concert, conducted by John Scarcella. "Die Alster" won the Houston Saengerbund (Singing Society)'s 2013 choral composition competition, mixed choir category.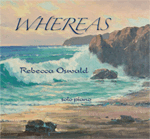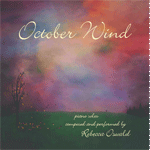 Rebecca's solo piano CDs Whereas and October Wind are available from Rebecca's online store, or from CD Baby; in Eugene, Oregon at Tsunami Books; and in Portland, Oregon at the New Renaissance Bookstore. MP3s are available from Rebecca's online store, and also from iTunes, Amazon MP3, and CD Baby.
PDF sheet music for selected songs from Rebecca's solo piano CD October Wind and for "Claro de Luna (the 'Moonlight Sonata' Tango)", as well as coil bound songbooks of all the songs from Rebecca's Whereas CD, are available exclusively from Rebecca's online store.
Rebecca's single MP3s are available from her online store. Tracks include "Sleep, Child" (string orchestra); "Finding the Murray River" (orchestra); "Pray, Tell Me How" (sacred acoustic pop song); "Barbara" (flute quartet); "Tin Roof" (prepared classical guitar quartet); and "Claro de Luna (the 'Moonlight Sonata' Tango)" (solo piano).
Rebecca's recordings are available for licensing.
Rebecca is open to new music commission opportunities, and can write new music in nearly any genre. Please email her to discuss your project.
Sign up!
Subscribe to Rebecca's newsletter for updates.
Socialize!
Join Rebecca on Facebook, Twitter, ReverbNation, and YouTube.

Listen! Rebecca's music can be heard on Pandora, Whisperings, and more.

copyright 2004-2013 by Rebecca Oswald