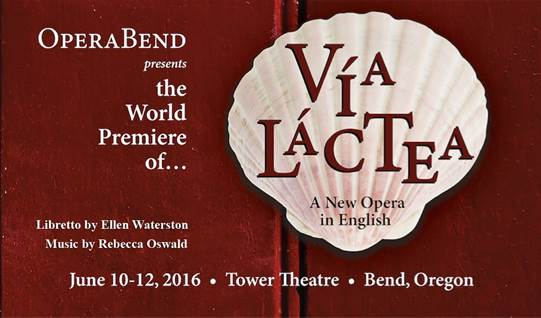 I'm pleased and proud to have received an Individual Artist Fellowship award from the Oregon Arts Commission. With this grant I have begun writing an opera based on the verse novel "Vía Láctea" (subtitled "A Woman of a Certain Age Walks the Camino") by award-winning author and poet Ellen Waterston of Bend, Oregon. The story is a colorful, fictionalized account of her 2012 pilgrimage on the Camino de Santiago in Spain. Project collaborators include OperaBend as the resident company, an orchestra conducted by Maestro Michael Gesme of the Central Oregon Symphony, and set designs incorporating the book's original illustrations by Bend artist Ron Schultz. The opera Vía Láctea's first three performances will be presented in Bend, Oregon in June 2016.
---
---
---
---
---
My single MP3s are available from my online store. Tracks include "Sleep, Child" (string orchestra); "Finding the Murray River" (orchestra); "Pray, Tell Me How" (sacred acoustic pop song); "Barbara" (flute quartet); "Tin Roof" (prepared classical guitar quartet); and "Claro de Luna (the 'Moonlight Sonata' Tango)" (solo piano).
My recordings are available for licensing.
I am open to new music commission opportunities, and can write new music in nearly any genre. Please send an email if you'd like to discuss your project.
Sign up!
Subscribe to Rebecca Oswald's newsletter for updates.
Socialize!
Find Rebecca on Facebook, Twitter, and YouTube.
Listen!
Rebecca's music can be heard on Pandora, Whisperings, and more.
copyright 2004-2015 by Rebecca Oswald